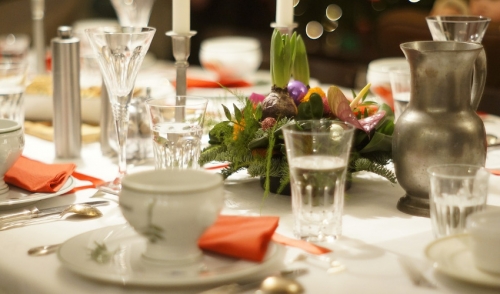 Natural accents are ideal to show off autumn's beauty in Thanksgiving decorations and centerpieces. There are many easy options to naturally enhance a mantle, dining table, coffee table or any other space that needs a bit of Thanksgiving cheer.
10 Easy Projects for Natural Thanksgiving Decorations
With just a few natural items – leaves, fruits, branches, pine cones, nuts, etc. – it is possible to create a wide range of stunning decorations. Remember to carefully clean any natural items before using them, and opt for uniform colors to create a coordinated look. Overwhelming decorations are never as beautiful as they may seem, but simple creations can be stunning. Quick, easy options for natural Thanksgiving accents, centerpieces and other decorations include…
Filled Vases
Add 3-4 inches of whole acorns, hazelnuts, cranberries or unpopped popcorn kernels to the bottom of a clear vase. Fill the vase with water and top it with a large chrysanthemum bloom or autumn-colored floating candle.


Pumpkin Piles
Pile mini pumpkins, gourds and squashes on mantle or table for an instant centerpiece. Choose fruits with different colors and textures, and add a few sprigs of berries for even more visual interest. To connect the pile, use a solid-colored runner or mat beneath the fruits.


Sprig Vases
Use tall, thin vases filled with sprigs of berries or stalks of wheat for elegant decorations. Cattails, rustically colored grasses and turkey feathers can also be lovely accents in these arrangements.


Leaf-Lined Bowls
Line a wide, shallow bowl or basin with a few colorful autumn leaves, weighing them down with a few river rocks or glass marbles in fall hues. Fill the bowl with water to bring out the leaves' dramatic colors, and top the centerpiece with floating candles.


Bowl of Apples
Fill a rustic wooden bowl or basket with several varieties of fresh apples, choosing fruits with different colors for better contrast. This can be a delicious edible centerpiece as-is, or accent the bowl with berry sprigs or wheat stalks for more elegance.


Pumpkin Vase
Carve out a pumpkin to use as a natural autumn vase for a fall floral arrangement. If the vase will be carved in advance, use petroleum jelly to coat the cut edges and minimize softening. Mums, sunflowers and other autumn blooms work well in this rustic vase.


Pine Cone Piles
Pile pine cones of different sizes either in a bowl or basket, or else directly on a colorful fall runner. Intersperse the pile with coniferous sprigs and berry accents for more color, or add pine cones to other autumn decorations for a coordinated look.


Filled Cornucopia
Fill a wicker cornucopia with small pumpkins, gourds, colorful Indian corn, nuts, garlic cloves or similar harvest products for a bountiful centerpiece. Line the cornucopia with a festive cloth and choose produce in a single color for added elegance.


Accented Bouquets
For a fast centerpiece, choose a basic autumn floral bouquet and add customized accents to it, such as tucking small pumpkins or apples among the blooms. Turkey feathers or wheat stalks can extend above the bouquet for extra texture and uniqueness.


Leaf Napkin Holders
Don't forget the little touches that make a Thanksgiving table so special. Collect a few colorful autumn leaves and tie one around each napkin, using twine, raffia or autumn ribbons in a simple bow to keep the leaf in place. Set the napkins on each plate, and every place setting will be part of the overall décor.
With just a few minutes of creativity and thoughtful use of natural accents, any home can be filled with beautiful decorations for a very happy Thanksgiving.