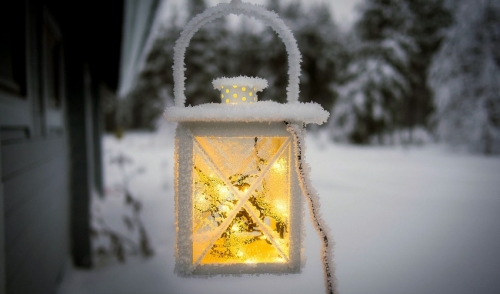 Greet your holiday guests in a unique way. On a cold winter night, ice luminaries (or lanterns) are a beautiful way to light a path, entrance way, patio or steps. They're excellent outdoor decorations for parties and celebrations and, best of all, they're easy to make.

You can make a variety of shapes just by choosing different containers. Usually old or unused plastic buckets or containers work great. Find one or more and fill with water. Now you need to create a space for the candle by placing a paper cup filled with a little sand in the middle of each bucket. The sand anchors the paper cup and keeps it from turning on it's side. Place the buckets in the giant deep-freezer known as the great outdoors. Periodically check the containers to make sure the cup hasn't floated to one side (although this shouldn't be a problem once the water begins to freeze). When frozen, unmold the ice block. If it's really cold out, pour a little warm water on the outside of the bucket to get the ice block free. Finally, peel off paper cups and insert votive candles.

To spice up the festive look add red pepper berries, evergreen needles, and tiny pine cones to the water before freezing--kind of like a Jell-O mold. Since the ice block glows, your front walk and door stoop will welcome your guests from far away.